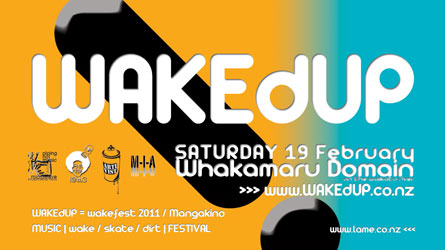 WAKEdUP = wakefest 2011 / Mangakino : MUSIC | wake / skate / dirt | FESTIVAL
48 hours of event action & entertainment...... at the beautiful Whakamaru domain this site offers free camping, a great access to the river & a safe spot to party with 2000 other peeps...
From Friday 18th Feb' at noon the gates will be open & the party will start that evening... we'll play for 48 hours until Sunday noon with a whole lot of event action & entertainment to keep you vibed the whole time!!!wakeboarding, skateboarding, freestyle bmx, motoX... more!!! phat waterslide, tramps, ramps & vertical bungy & MORE!!!bands / gig - the best Dub, DnB & Dubstep from around NZ! great stage & BIG visuals & a stonkin' hard BASS heavy system!!! we have some pumping new exclusive tracks online to bring to you too!!!