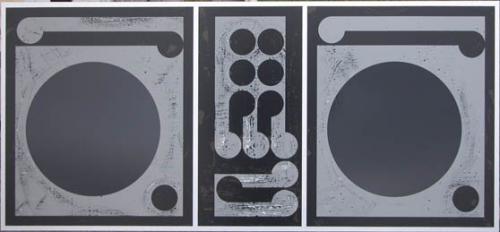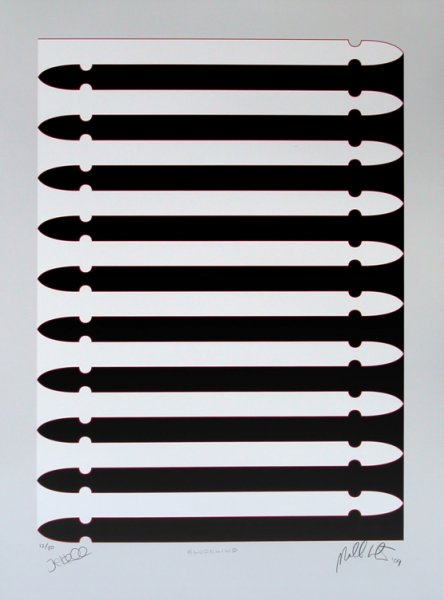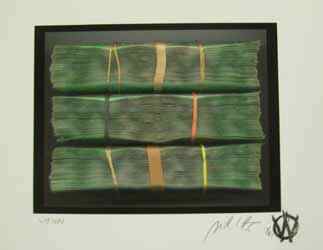 Mike Weston (1963-) is one half of the collaborative identity Weston Frizzell with Otis Frizzell.
Weston has worked as a recording engineer, DJ, music producer, event promoter, clothing designer, visual artist and artist manager. Weston has produced a series of graffiti art events including Fresh Fresh Fresh, Disrupt the System 2000, Damage Control and Contents Under Pressure.
Weston has entangles himself with other collaborators (Jason Hall, Jos Wheeler, Derrick May, ARTIVIST, etc) & continues to motivate & contribute both concept & content to cause & effect that celebrate his involvement.
WESTON HALL
Bloodline
archival pigment inkjet edition of 80
515 x 686 mm
$650
Ch'ien by Mike Weston
Giclee Print
350mm x 270mm
Edition of 40 signed and numbered prints
$450
The title of the work is taken from the ancient Chinese written oracle, the I Ching. The arrangement of three horizontal unbroken lines is the first of eight trigrams that, when combined in pairs, form a set of 64 hexagrams that index the entire work. Both the trigram, and the hexagram formed when paired with itself, are called Ch'ien /the creative. It represents heaven. Its essence is primal power and energy, associated with the father; light-giving, strong, and of the spirit.The trigram represented by the arrangement of the rubber bands is Li. Li means "to depend or rest on something" and also "brightness" or "nature in its radiance".
This artwork by Mike Weston involves NZ $15,000 in $20 notes, arranged in three $5000 bricks.